Five Best Cities To Visit in Japan (Outside of Tokyo)
Visiting Japan is a wonderful experience for any traveller but the planning stage can be difficult and overwhelming. There are so many places to go and so many things to see that it can be hard to narrow down the choices. Most visitors have Tokyo on the must-visit list but other cities can be hard to compare. Here, we have done the work for you and narrowed down five of the best cities to visit in Japan outside of Tokyo.
If you have Japan in your bucket list, then be sure to save this Pin in you Japan / Travel board!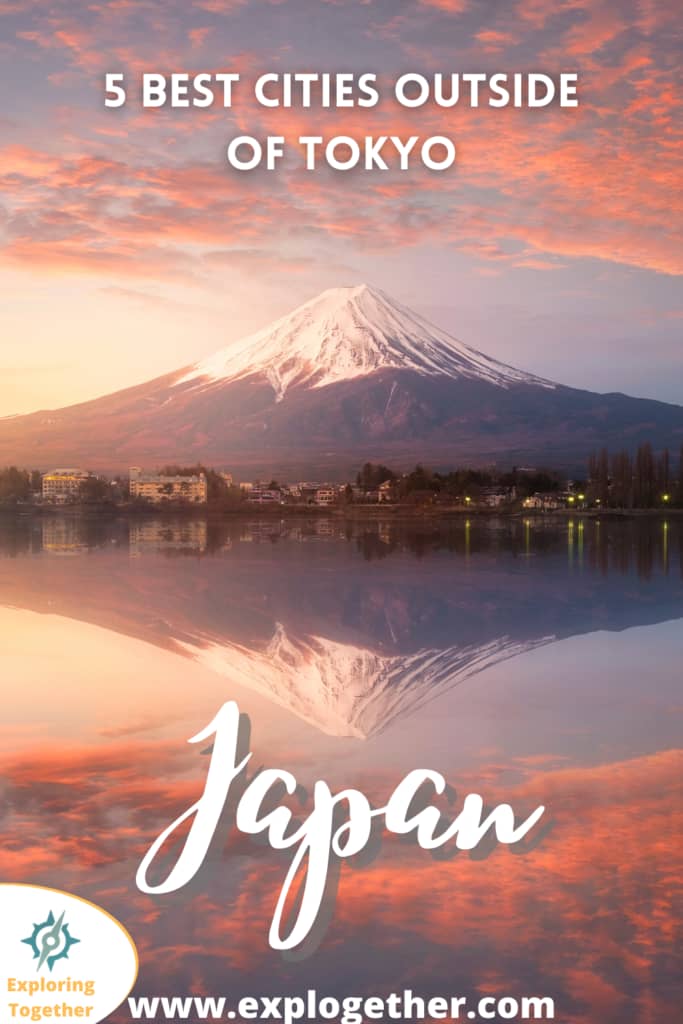 Five Best Cities to Visit in Japan: Kyoto
Kyoto is famous as the centre of culture and tradition in Japan. It is known as the 'City of 1000 Temples'. With 17 UNESCO World Heritage Sites and thousands more shrines, temples and castles, Kyoto is a hotspot for experiencing the rich culture of Japan. Kyoto was the capital of Japan for more than a thousand years and was home to some of the most influential emperors in the country's history.
Kyoto is one of the most popular areas to visit in Spring, with the blooming of cherry blossoms providing a perfect complement to the historical architecture and culture. Kyoto is home to some of the most famous locations in Japan, from the gold-leaf-covered temple of Kinkaku-ji to the many torii gates of Fushimi Inari Taisha shrine, and so it is a wonderful experience for any visitor to Japan.
Osaka
Osaka has long been the home of Japanese sub-cultures. There is a niche for everyone, and this has led to Osaka producing a number of top Japanese musicians and comedians. Osaka is often seen as the opposite to Tokyo – bright and outgoing as opposed to quiet and hard-working.
One of the best things about Osaka is the people. Osakan people are quite proud of the collective personality their city has cultured. They also pride themselves on their hospitality. Osaka has created a number of the top foods in Japan, so much so that it is known as 'The Kitchen of Japan'. This includes everything from Takoyaki – octopus fried in a ball of dough and covered with sauces, to okonomiyaki – a savoury pancake that can fully customized with toppings to suit your tastes. Osaka is a rough patchwork of different sub-cultures coming together and ending up with a rich mix of people, places and food.
In Osaka you will also find one of Japan's most beautiful attractions: the Osaka Castle. Originally known as Ōzaka-jō, this Japanese architectonical masterpiece is one of the "Three Japanese Famous Castles". If you are interested in Japanese history, then this destination will make you immerse in some of the most important events that happened in the island.
Nara
Nara is a great city located close to Osaka and Kyoto but with a very different atmosphere to most of the Kansai region. A day in Nara always feels relaxed and laidback when compared to the fast pace of some other Japanese cities. Nara was the first permanent capital of Japan and therefore is home to a number of the oldest and most significant temples, shrines and museums in Japan.
It is also famous for the deer that inhabit the city. The deer roam freely in the city, although they do generally stay in and around Nara Park. The deer are accustomed to humans and so it is possible to feed the deer with 'deer crackers' that are sold at various stalls throughout Nara Park. Time spent in Nara is a great getaway and chance to experience something a little different on a Japan trip.
Nara is one of those places that allows you to create a deeper connection with the country, simply walking and enjoying the surroundings will make you fall in love with Japan. Well, that's why it is in our list of five best cities to visit outside of Japan!
Yokohama
Yokohama is about a half-hour train journey from Tokyo and so makes for a great day trip location. It is a port city and so is historically one of the first parts of Japan to open to international visitors and trade after the period of seclusion in Japan. This has allowed Yokohama to have a long-lasting variety of cultural influences.
It is home to the largest Chinatown in Japan and so there is an abundance of Chinese food, Chinese markets and Chinese culture. There are also a number of great Chinese-Japanese fusion dishes.
Yokohama is also home to Sankeien Gardens – a large traditional Japanese garden. While there are traditional gardens all throughout Japan, Sankeien is significant due to the number of historic buildings that have been moved and reconstructed from areas such as Kyoto and Kamakura. This means a stroll through Sankeien gardens is also a journey through history. Yokohama is a fun cultural experience, both in Japanese history and in mixed cultures.
Fukuoka
Fukuoka is the largest city on the island of Kyushu, the most southern island before reaching Okinawa. It is warm for most of the year, in contrast with the more northern parts of Japan which have snowy winters. Fukuoka has long been hailed as the home of tonkotsu ramen, one of the most popular ramen style in Japan.
Tonkotsu ramen is a ramen with a pork bone-based broth, popular for its thick, creamy broth and delicious char siu pork. Tonkotsu ramen was first developed in 1937 and Fukuoka hasn't looked back since. While ramen is delicious and easy to find all over Japan, the birthplace of tonkotsu ramen truly serves the best. Fukuoka is best to visit during winter as the more tropical atmosphere makes the winter quite mild and enjoyable. For a foodie in Japan, Fukuoka is a necessary experience.
Now that you have read "5 Cities to Visit in Japan (Outside of Tokyo)"
A trip to Japan can be filled with culture, food and new experiences. With so much to see and do, it can sometimes be hard to prioritise where to go.
While Tokyo is first for most people -and you should certainly spend some time there-, other cities are a bit more difficult. With this list, you can easily see some of the best cities to visit in Japan and make the most of your trip to Japan.
Before we go!! Remember to save this pin in your travel boards and share this article with someone you know is visiting Japan soon ?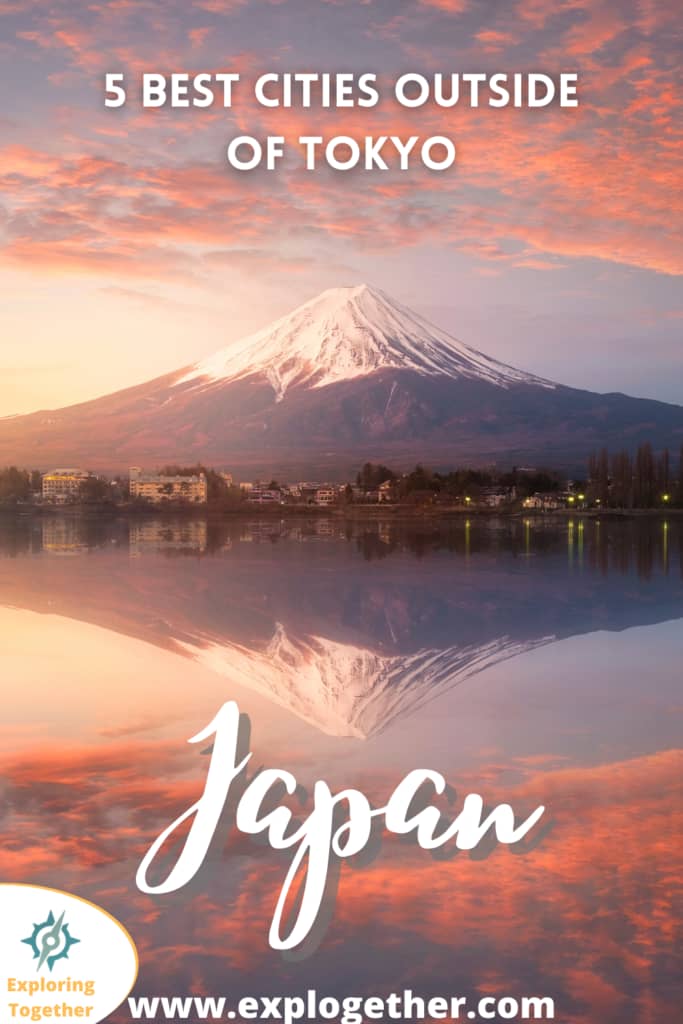 And remember, let's keep Exploring Together! ✊?