19 Incredible Places on Earth!
19 Incredible Places on Earth
Hello Explorers! Firstly would like to say I don't know the entire world, that's why I won't tell you these are the MOST incredible things on Earth. Instead, these are just some of the most incredible places on Earth that I've personally seen.
INCREDIBLE = "WOOW"
I am certain that you might think "this X thing is way more incredible than your list" and, it can be! That's why rather than getting into an endless discussion, let me know in the comments below which ones would you include in this list.
Who knows! If future allows it, I'll be more than willing to explore them.
Also, by incredible, I don't necessarily mean beautiful, classic or glamourous. I am merely relating to those insane jaw-dropping destinations that make you mind go blanc while unconsciously delivering a "wow".
For example, Arc The Triopmhe is a gorgeous architectonical piece. But to me, it isn't something incredible.
That being said, today I have a delicious list for you to binge-watch and to motivate you to keep exploring this beautiful world we live in! So here is my list with some of the most impressive places on Earth that I've seen.
Share These Amazing Places With the World! ?
BASILICA CISTERN, ISTANBUL, TURKEY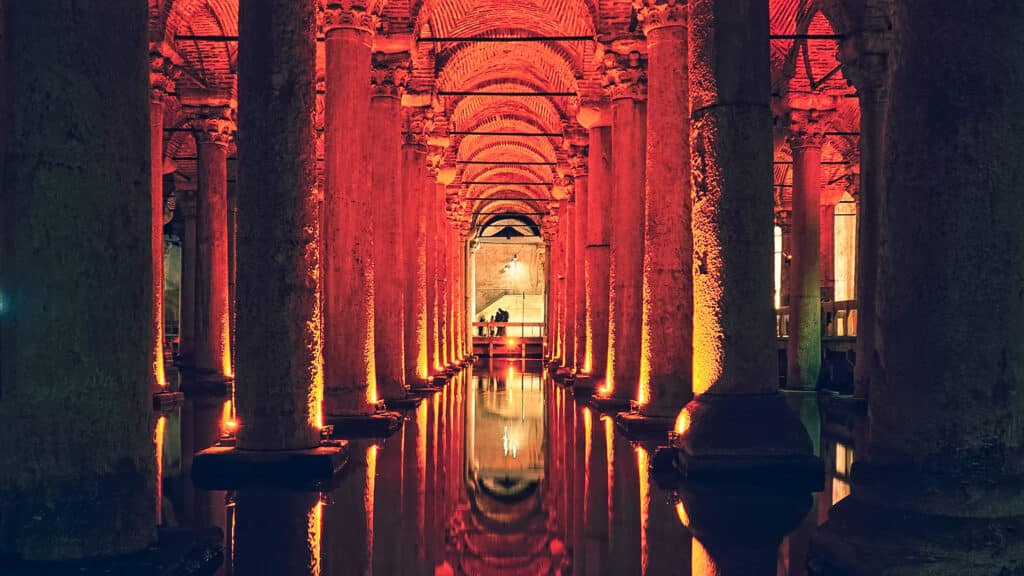 BY FAR the biggest surprise of my visit to Istanbul was the Basilica Cistern.
While the most prominent attractions such as the Blue Mosque or Topkapi Palace were outstanding, entering the Basilica Cistern was like placing my brain on a rocket and sending to the moon. I simply couldn't believe what I was watching.
So many incredible things to be seen in such an unimaginable place. The perfectly aligned pillars, the amazing roman engineering or the symbols like the Medusa's head or the tearing column. This place was way too far from what I could have ever expected.
SAINT PETER BASILICA, VATICAN CITY.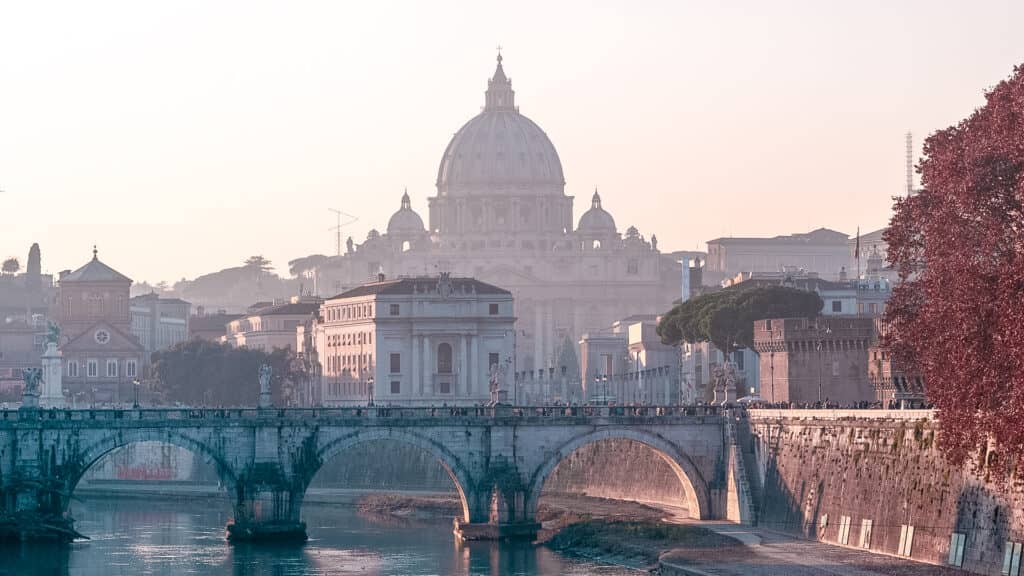 The dome of St. Peter's Basilica in the Vatican
Everything inside Saint Peter's is just fantastic. The art, the light illuminating the dove behind the altar, the baldachin, and… you get me.
While it is hard to believe, every single meter square of this Basilica was fantastically decorated creating what I call "the biggest piece of art on Earth".
But the Basilica isn't just impressive for the art, but also the mysterious vibe that emanates. Being the main temple of Catholicism, it surely is an enigmatic place.
SIXTEEN CHAPELLE, VATICAN CITY.
Similar to Saint Peter's Basilica, this place is simply outstanding. Another just genius piece of art created during the Renaissance.
If you can forget the apparent tourists and simply analyze the place where you are at, you will see 360º of beautiful and meaningful paintings. This is a place where you and the hundreds of other tourists will be looking at the ceiling with a total jaw drop.
NEW YORK, USA
New York is a city that every person should try to visit at least once in their lifetime. So many things to be seen, and so many activities to do.
To me though, the most incredible thing was not in New York, but WAS New York itself.
The moment I saw the city from the aeroplane seat, I was like "What the f#ck?!". Admittedly, I had seen NY many times in movies, news and photographs. However, I never expected to see what I was looking at.
I thought I was looking at a massive brick of concrete on top of an island! (Which isn't an Island but looks like as it is surrounded by the sea)
TORRES DEL PAINE, PATAGONIA, CHILE
Hands down the most incredible natural place I've ever been to. The entire park is just too good to believe.
Either you are looking at the massive Cuernos del Paine, The thin and tall Torres del Paine, The breaking Paine Grande Glacier, the photoshopped lakes or walking at the side of the Grey Glacier. I could easily talk for hours about Torres del Paine.
FAVELAS, RIO DO JANEIRO, BRASIL
In my opinion, Rio is the city with the most amazing landscape on Earth. It literally is inside of a jungle with paradisiac beaches and the some of the most jaw-dropping hills that you'll ever see.
Of course, not everything is samba. Rio has an impressive amount of Favelas climbing the hills.
But if you think that merely looking at a favela from down bellow is something remarkable, wait until you go inside it. In the video at the side, you'll see my experience inside of a Favela.
As a South American myself, I am used to dealing with complicated neighborhoods and always being aware of where the heck am I getting into. But I must admit, I don't remember too many situations where my heart beat faster than in Vidigal (and this one is a "touristic favela)
POMPEII, ITALY
The first thing that impressed me when visiting Pompeii was how freaking hot it was. While I am not totally sure how hot was that day, I wouldn't be surprised it if was above 40º with strong humidity.
Exploring this ancient ruins is a unique experience where you'll not only witness how did Romans lived but also the power of nature.
MACHU PICCHU, PERÚ
Yeah, explorers, what did you expect… Machu Picchu needed to be on this list.
While I did not have the most pleasing experience due to the extreme amount of tourist, Machu Picchu is like TNT for the brain.
How did they build it?
How did they carry massive stones from far distances?
Why is it located in such an insane mountain?
Are just some of the questions that you'll have when visiting it.
SAGRADA FAMILIA, SPAIN.
Another "cliché" explorers, The Sagrada Familia. What did you expect?
Gaudi's masterpiece is a naughty Basilica. The Sagrada Familia gathers chaotic shapes and figures that will make you wonder how is it possible for someone to even think of it.
Being completely different from every other Cathedral/Basilica on Earth, the colors, the ceiling, and the exterior will give you some proper "woow" time. It is just to beyond of normal, just incredible.
PECHERSK LAVRA, KIEV, UKRAINE.
I love Ukraine. Every single bit of it. But I have to admit that what truly blew out my mind was Pechersk Lavra.
This monastery has an endless amount of golden cupules, meaningful icons and details that I honestly can't explain them to you as they are mostly in Cyrillic haha.
But what is essential to know, is that this destination is the Vatican equivalent for the Orthodox church. The reason why you will be seeing people praying in a way more conservative than in the Vatican.
THE ANDES MOUNTAINS, SOUTH AMERICA
The longest range mountain on Earth is one ridiculously incredible place.
As a Santiaguino (Chilean from Santiago), I get to see the Andes every day and it simply never stops surprising me. But it truly makes me "woow" after it snows.
I mean, look at this picture of Santiago taken by MauroPhotography ??
Now, I am not placing "The Andes Mountains in Santiago" in this list. I am putting The Andes Mountains as a whole because it is continuously changing and giving life to different kind of ecosystems.
Either it is in Perú, Bolivia, or somewhere else, The Andes have mindblowed me so many times that I will never stop admiring them.
THE PERGAMON MUSEUM, GERMANY
While I am not a hardcore museum explorer, I do visit the main ones in each city. And after visiting the traditional ones like Louvre, El Prado or MET, I can tell, if there is only one museum I would say "you must visit it." That one is The Pergamon Museum
This attraction is the reason why I came up with this article. From the entire list, I am not sure which one would be the MOST impressive of them all, but this one is undoubtedly in the very top.
Inside the Pergamon Museum you will find the Pergamon Altair, a well mantained monumental construction built the 2nd Century BC. Other attractions include the Market Gate of Miletus, almost comparable to Ephesus's Library of Celsus.
However, what truly made my brain explode was Ishtar's Gate to the inner city of Babylon. Supposed to be built around 575 BCE, looking at this 13 meters high wall with king's Nebuchadnezzar writings is simply mesmerizing.
DACHAU CONCENTRATION CAMP, MUNICH, GERMANY
An impressive attraction that's not suitable for everyone. Dachau concentration camp is by far one of the most impacting experience I've ever gone through.
Seeing how Nazis did human experiments, seeing the barracks where prisoners were held and, of course, the gas chamber was a soul hurting experience.
While I totally recommend visiting it, I would also like to state that you have to be mentally prepared to see some really rough things. Besides, you will end up with an undeniable bitter state.
A couple of years after I visited Dachau, I had the chance to visit Auschwitz. I didn't.
IL DAVID, FLORENCE, ITALY
A masterpiece like no other. 3 things I never thought before seeing it:
Someone could make something so beautiful
Marble could be shaped so precisely and flawlessly
How massive it was
Fact:
3 things in this list were created by Michelangelo:
Il David
Sixteen Chappell (The Last Judgement, and The Creation of Adam)
Also, St. Peter Basilica was directly supervised by Michelangelo and maybe the most iconic sculpture inside of it is his. La Pietá
Being honest, I am not sure if I am just a huge fan of Michelangelo or not, what do you think? Do you agree?
VOLCÁN DE FUEGO, GUATEMALA.
What is in the photo
Seeing a volcano eruption is impacting. Seeing a volcano erupting every 15-20 minutes is mind-shattering. As the sun was setting, you could easily see the lava coming out of the volcano, honestly, what a non-realistic experience.
THE ISLE OF SKYE, SCOTLAND
The Isle of Skye is a tiny and isolated place. It will take you between 6-7 hours drive from Edinburgh to get there, but it is probably one of the most road trips you will ever do. If you would like to enjoy of the landscapes, be sure to watch our Scottish Series
Also! if you would like an amazing landscape photography image that you can print, click in the image below!
MINIATURE WUNDERLAND, HAMBURG, GERMANY.
You might think I am joking… I am not.
I was one of those kids who used to build scale jet fighters, play with my dad's märklin trains and had an infinite imagination to play with my pokemons.
So getting to see the most prominent model railway in the world, Miniature Wunderland in Hamburg, was a complete overdose of impactful happiness.
Some of the things that you will see in there are perfectly modelled replicas of countries like Germany, Italy, Switzerland and many more. The craziest thing is how everything is brought to life. With self-moving cars, real stadiums, thousands of trains that are operating and… A freaking airport with aeroplanes that actually take and land off!!
It's a dream come true and ad example of how can we live from what we love.
NEW TOWN, EDINBURGH, SCOTLAND.
While I have been lucky enough of travelling to many medieval towns and cities, I believe no one compares to Edinburgh. It is basically a medieval New York.
HAMMURABI CODE IN LOUVRE, PARIS, FRANCE
As I grew up, I was fascinated with history. Learning where did we come from, how we developed, and the early years of humankind civilizations made me fell in love with our history and our beautiful world.
I was especially intrigued by the Hammurabi code, one of the oldest law codes written. Such is the impact of it in humankind history that even nowadays, we use you get to learn the classic phrase "eye by eye, tooth by tooth." at an early age.
So, you can figure out my excitement when I randomly saw it in the Louvre (random because I had no clue it was there. I was 14 and back then Louvre = Mona Lisa)
**Note: The Hammurabi Code in the image is a replica of the Pergamon Museum. I visited Louvre long time ago, couldn't find pics ?
Final Thoughts
I am totally aware that this amazing world of us has so many more things to offer that I just can't stop thinking of exploring them!
I'm intrigued! What are the most incredible things you've seen? Let me know in the comments below!
Also! Do not forget to share this pin and follow Exploring Together's Youtube Channel! ?