10 Places You NEED To Visit in Italy
10 Places You NEED To Visit in Italy
Italy! pizza and football! Or should it be… Italy! pizza, football, ice cream, ruins, love, fashion, Ferrari, Spaghetti, Ferrari, Julio Cesar, Ferrari…. With so many things to do and visit, planning a visit to Italy can be chaotic, that's why today we are sharing with you 10 places for you to visit in Italy!
ITALY: WHERE ART MEETS HISTORY
It doesn't matter where in the world you were born, chances that you have not heard about Italy is close to 0.
Having one of the greatest civilizations of all time, Italy is one of the countries that has shaped the history of humankind. Literature, science, art and law are just a few areas where Italy has influenced the world.
A huge curiosity about Italy is that the country as we know it nowadays unified in the early beginnings of the 19th century. Before that, they were states, kingdoms or even the Roman empire
But the real curiosity is… why is called Italy, instead of Romania, Venetia or Florencia?
Italy comes from the latin word "vitalia" (land of cattles), a southern area of the country. Romans used the word "vitalia" and "vitali" to refer to this area and, with time, they spread it along the peninsula and turned in the word "Italy"
While all Italians are Italians, Italians do differentiate themself. This is clear with the classic "northern vs southern" Italian enmity. Rivalry that is immediately solved when Italy national football team plays.
But at least now we now why each city of Italy has its very own history and culture. That being said, let's go to the:
Share This Pin to Your Travel Board ?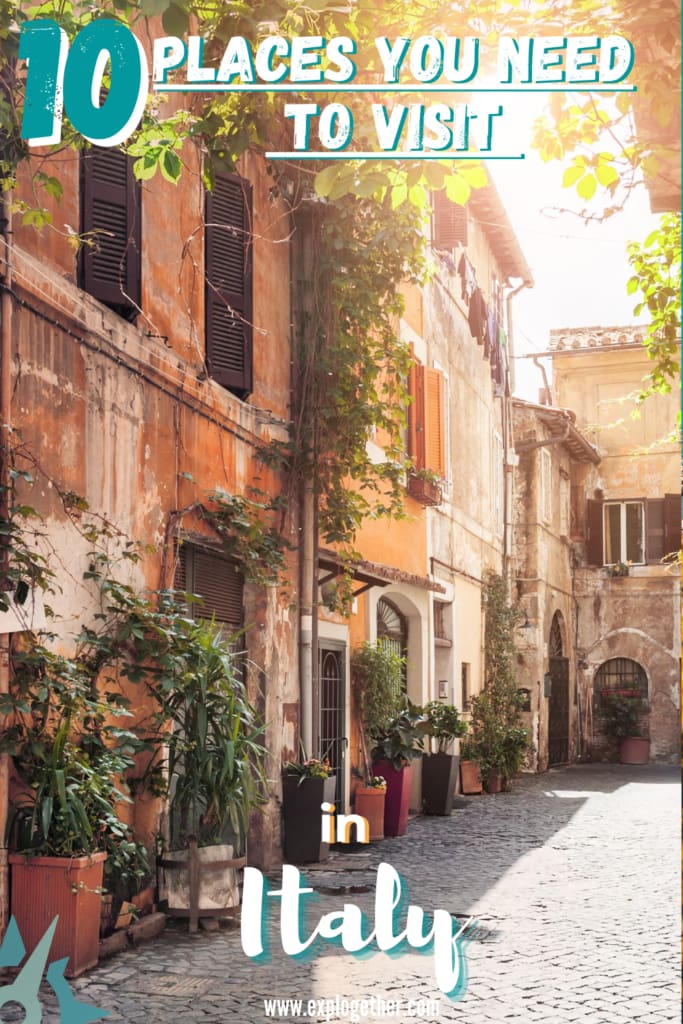 10 PLACES TO VISIT IN ITALY
DOLOMITES
Dolomites has become a world wide famous destination thanks to Instagram photographers, and I am thankful for that! I mean, look at this place! Surely is one of nature's biggest gifts
The Dolomites is a range mountain located in the southern side of the Alps and the amazing landscapes, towns and roads makes of it a wonderful destination to explore. It is one of those places where you can just spend the day driving while looking around in a "wow" mood.
During summer you can enjoy of great activities such as hikes, via ferrata routes, and enjoy the many lakes like Di Braies or Cardore. During winter, it is a lovely snowy alpine landscape perfect for a romantic scape. Ah! there are many ski centers where you can enjoy of winter sports.PreviousNext
2.- VENECIA
The grand canal in Venice
Venecia is one of the few cities to have the privilege of being considered as "The Most Beautiful City on the World". Of course, there's no accounting and for some Venecia isn't the most beautiful city. Either it is or not, I think we all can agree that the city is gorgeous.
For more than a thousand years Venice was an independent nation. F or centuries it was one of the most important and influential cities in the world where it developed as a trading center. It had strong connections with the Byzantine and Islamic world, allowing it to trade spices.
While it is nowhere near to its old glory, Venice still is a merchant city. Remaining as one of Italy's biggest ports, it is one the biggest hubs for cruise ships in the region.
Nowadays Venice lives from tourism. When I visited it, there were moments when it was hard to walk in the narrow streets -after tourists descended from the cruises- simply because there were too many people around.
Unless it is for Venetian carnival, I would avoid visiting during high season -specially in summer- as it gets simply too crowded. If you are interested in sightseeing the mid May probably is the best time to visit.
One of the main touristic destinations is the San Marco's square, where you'll find the Basilica San Marcos and plenty of restaurants and tourists feeding pigeons. I know, it might sound fun to do, but remember that pigeons are the rats of the skies.
Finally, from Plaza San Marcos you can go to the Gondola Station. A Gondola ride cost around 80-100€ for 40 minutes. Should you do it and is it worth? Let's break it down:
A Gondola costs between 20k-50k €
There are about 400-450 gondoliers
Gondoliers are generally fun and will make the ride an entertaining one (and they'll make sure of flirting with any woman who goes inside of his Gondola)
A gondola ride is probably the most expensive touristic boat trip in the world, but I wouldn't say it is over priced.
As I have already done it once, I am sure I won't do it if I'd be going on my own. However, if I'd be in a romantic trip then, I'm all in.
So it would kinda go like this:
Sharing the Gondola or, in a romantic trip, yes.
Doing it again on my own, no.
Doing it again while sharing costs, yes.
Doing it again for the first time, I'd do it depending on my budget
But then again… if you are in Venice for the first time and you have a tight budget, it might be a good idea to simply starve for the next 2-3 days and do it.
FLORENCE
The beautiful Florence
Florence must be one of the most important and influential cities in our history. Considered to be the cradle of the renaissance- a movement born from humanism that represented the idea of cultural change from theocentrism to anthroposentrism- this city is pure art.
Florence blossomed by the hands of wealthy families that sponsored arts and humanism, but no other family had the influenced that Medici's did. The Medici's was a banking family that later also dedicated to producing and trading wool. Their wealth allowed them to finance things and artists such as:
Leonardo Da Vinci
Raphael
Donatello
Michelangelo
Galileo Galilei
Basilica San Lorenzo
As the "capital" of the Renaissance, Florence has many things to do and visit, however, I believe the main 3 ones that you should go are:
The Cathedral of Santa María del Fiore:
The main building of the city and an icon of architecture. "Il Duomo" is the result of the genius architect and artist Brunelleschi with the support of Cosme Di Medici. To built it, Brunelleschi developed the linear perspective technique, which is even used nowadays.
Il David
Created by the famous artist Miguel Ángel Buonarroti (Michelangelo), this sculpture of 5,17 mts is hands down one of the best pieces of arts ever created. It is in the Accademia Gallery in Florence. Ticket costs 16€ (you'll be charged you +4€ if booking online) and its totally worth.
Uffizi Gallery
One of the most important arts galleries in the world mostly containning pieces from the Renaissance. Most ot the art works were left by the Medici family.
Ticket costs 24€ (you'll be charged you +6€ if booking online) and in the interior you'll see pieces like The Birth of Venus or The Spring, both from Botticelli
Of course, we understand that traveling in Italy can be very expensive. So here is an advice for you and a personal thought :
You can enter inside the Dome for free if you go to mass. Now, in Exploring Together we focus on learning and being respectful with other cultures. That includes religions. So please, even if you are an atheist do pay attention and respect while people is in mass.
If having to choose between the Uffizi Gallery and visiting El David, I would personally go with the last one. (Disclaimer: I am not really an art person so I don't understand that much of paintings). I think the David must be one of the most impressive things I've seen in my life.
Finally, if you are really tight in budget, Florence is still a wonderful place that you can walk and enjoy. Be sure to check out some of the following places:
Plaza de la Signoria
Plaza del Duomo
Puente Veccio
Santa Croce
Oltrarno
DI COMO LAKE
Another beautiful destination is "Lago Di Como", not only the amazing landscape is worth seeing but also the classic Italian towns that surround it. Must visit Varella and Bellagio.
Would totally recommend renting a car for the day and go around the lake. In the way, be sure to stop by Villa Balbianello and Villa Carlotta which has a beautiful botanical garden. Otherwise, there are ferries available that you can take and move from one town to another. Of course, this option is cheaper but you don't have the freedom that a car gives you
The ferry has different costs and timetables that you can see here. But in a nutshell:
One town to another: between: 3-4€
Day Ticket: 15 €
But Lago di Como is also one of those places that you just want to relax and enjoy of the gorgeous view. That's why simply getting a gelato while walking on a beach or swimming in the lake are some of the best things that you can do!PreviousNext
TUSCANY
Before we talked about Florence which is in Tuscany, but the region of Tuscany has so much more to offer. While I do believe that making a stop in Florence is mandatory (therefore it is specifically placed in this list) the rest of Tuscany should be also in your list. Well… maybe exploring all of Tuscany might be too much, but you should at least see a bit of it.
One inconvenient of exploring Tuscany is that you will have to rent a car which will mean spending some extra bucks. But the food and the beautiful old towns are going to make your trip totally worth.
If you can, we do recommend visiting Sienna and Arezzo, but if you are lacking time, I'd rather focus in the little towns. Here are some recommended towns:
Montepulciano
San Gimignano
Cortona
Volterra
Monte Rosso
Pitigliano
These beautiful towns aren't so far from each other and depending on which one would you like to do, you can easily manage to visit 3 of them in a day.
CASERTA
Caserta town is generally skipped by visitors as they go to Naples, but if you want to have a huge surprise then you should go there as it has one of the biggest palaces ever built:
The Royal Palace of Caserta

This amazing palace is the Italian equivalent to Versailles. For some reason that I don't know, this palace is rather unknown and many people do not visit simply because they have no clue about it.
Fact: Did you know that Italy still has a Royal family? It is the house of Savoy, stablished in 1003. (MORE THAN A 100O YEARS OLD!! ?)
However, this place is so amazing that has appeared in many movies, some of them are Mission Imposible III, Angels & Demons and Star Wars I & II. It Such is the beauty of it that it is used as the Royal Palace of Naboo!
POMPEII
Probably one of the most terrifying stories in our history is how the Vesuvius volcano buried the city of Pompeii. It is believed that the eruption lasted for 2 days, allowing most of the inhabitants to escape. Unfortunately, the ones who didn't flee after the first night faced the pyroclastic flows of the volcano, incinerating or suffocating the remaining population.ç
The city and the nearby locations ended up buried under 4 – 6 meters of ashes. Nowadays, around 3/4 of Pompeii has been excavated and you can see how was life 2000 years ago.
This is one destination where I do totally recommend either getting an audio guide or hiring a tour as there's simply too much information in every corner that you'll miss out if you go on your own.
Some of the amazing things that you'll be seeing in your visit to Pompeii:
Advanced Sewage systems
Bars
Brothels
Human petrified by the ashes
Stepping stones on the streets to avoid getting wet when it was raining.
Amazing wall paintings
Impressive buildings like the amphitheater and the temples.
Some pro Tips:
If you are planning on going there by the month of July, be prepared to be under extreme hot. I did the tour with 47º C (117ºF)
Hydrate yourself before and after the visit, it is very humid and you'll sweat a lot.
The city is a massive place, take some proper walking shoes.
Sun block is a must.
CINQUE TERRE
The towns of Monterosso, Vernazza, Corniglia, Manarola y Riomaggiore, or also known as cinque terre (5 lands) are well known for its beauty. These towns that are almost located on top of the ocean are likely to be some of the best places to walk around Italy.
The best way to explore the towns is by foot. You can visit them in a day, but we'd recommend you to spend at least a night so you enjoy of the gorgeous sunsets.
Pro Tip:
Forget about going by car. Take the train, it will be easier, funnier and you won't have problems if something happens to it.
SICILY
By many Sicily is one of the "hidden" gems of Italy. While it is not exactly hidden, the fact that it is "harder" (you have to take an airplane to Palermo or Catania) to reach makes a rather unknown destination to explore. But Sicily has so much to offer, it is like a salad which ingredients are history, heaven like beaches and awesome food.
In 2018 Palermo was named the "Italian Capital of Culture", it has many galleries and museums that you can visit and it is a great starting point to begin you experience in Sicily. Be sure to spend at the very least 4 days in Sicily as you will have to move from place to place to cover a proper part of the island.
Some of the things that you should definitely do while being around:
Valley of Temples, Agrigento
Aeolian Islands
Cefalú
Val di Noto
Mount Edna
Some other great attractions are the Mount Edna and Taormina, but, honestly speaking, if you are going all the way to Sicily, then you better take your time to properly explore it. Once you come back, you'll not have some great memories to treasure for the rest of your life but also a great tan and at least 5 more pounds ?
ROME
If I left Rome to the end, not only is it because it might be the best on the list. It also is the hardest one to describe and to write about. Somehow, Rome is chaos, history, art, philosophy…. It is a place that confuses the senses of everyone who visits it for the first time. No matter where you look at, you'll be seeing a 2000 years old ruin.
And then you come to realize… "So this is why the Roman empire dominated the world for centuries"
Exploring Rome is one of the biggest pleasures an explorer can have, an adventure that will last as long as your curiosity wants.
Veni, Vidi, Vici. (I came, I saw, I conquered)

Julius Cesar
Either you are going to the classic buildings like the Colosseum or the Parthenon, or simply walking into a random church, the adventure here will only finish when you want it. But Rome won't stop giving it to you.
The very least that I'd recommend you to stay in Rome are 5 days, and believe me, you'll be running short on time. But at least, you should be trying to visit the Colosseum, the Roman forum, The Fontana di Trevi -if you visit it at night there are going to be way less tourists!- the Parthenon and, of course, The Vatican City.
Now explorers, believe me that the things mentioned above are just a few of the endless things to do in Rome. That's why I will be writing a dedicated article on what I think are the must do's there.
However, Rome isn't just about the buildings, it is also the culture. The noisy Italians, the vespa motorbikes that sound like a bee nest or the pizzas…. oh the pizzas. Rome is one of those places that you have to dedicate time to sightseeing and to live it.
Live it, because the best of the adventures often happen when you are not expecting it and while Rome might have endless things to visit, sometimes, sitting in a nice viewer while watching the sun set and hearing the city sounds could be the best of the experience that you can have.
Final Thoughts
Planing a trip to Italy can be an overwhelming task as it simply has too many things to do. We won't tell you which ones are better than others, we simply can tell you that whatever of these places you visit you'll enjoy a great adventure.
If there's any additional advice we could share, is that do never think of what you are missing to do. Simply enjoy, appreciate and wonder with what you are being able to see and enjoy.
Exploring Together's 10 Things To Do In Italy
Dolomites
Venecia
Florencia
Tuscany
Lago di Como
Pompeii
Cinque Terre
Caserta
Sicily
Rome
That is it for me today explorers, do not forget joining to the Exploring Together community down below and share this blog and, I, Chief Explorer Ian Lewis, will be seeing you soon.
Chao chao,
You Italian Explorer