10 Best Things To Do In Santiago

So you've just travelled until the world's end after a very likely long flight but you have no clue on what to do? Good for you, because in this article we are talking about the best 10 things to do in Santiago Chile!
Santiago is a huge city, with roughly 6.5 million inhabitants, moving inside the Chilean capital might be difficult. Just wait until you see the number of people in the metro stations at peak hour!
But no matter what time of the year you visit, Santiago is an entertaining and vibrant city with lots of places waiting to be explored.
10- WALK UP THE SANTA LUCIA HILL
This little hill in the heart of Santiago is where conqueror Pedro de Valdivia decided to found the city after noticing that indigenous people were able to farm.
Besides, the hill is in a strategic place to see if any locals would approach to attack the Spanish conquerors.
Nowadays this hill is more of a "museum hill", a calm piece of land in the middle of the capital.
At the top of the hill, there is a viewer where see the city from a great perspective.
Going up the hill is refreshing and informative as you'll see iconic places like the Castillo Hidalgo or the "Terrazas" Caupolicán and Neptuno.
Also! Everyday at 12pm there is a show where cannon "fire". You can hear the bang all around.
Nowadays this hill is more of a "museum hill", a calm piece of land in the middle of the capital.
Going up the hill is refreshing and informative as you'll see iconic places like the Castillo Hidalgo or the "Terrazas" Caupolicán and Neptuno.
9.- SANTIAGO DOWNTOWN
Chile's gubernamental palace called La Moneda "The Coin" as it was were coins were produced until 1847.
If you want to explore this city you need to visit downtown. Having a classical European "Damero" design (checkerboard style), Santiago developed in the surroundings of the Plaza the Armas.
It is around it where you'll find some of the oldest and most important buildings that the city has like the Cathedral or the Post office. From there you can go to other places like gubernamental palace La Moneda or Paseo banderas, all of them at a walking distances.
From Plaza de Armas you are at walking distances from diverse touristic destinations, including:
Paseo Bandera: 2 min walk
Justice Palaces: 3 mins
Central Market: 6 min walk
La Moneda: 11 min walk
Cerro Santa Lucía: 14 min walk
Lastarrias : 14 min walk
In the way, you can get a classic coffee in a "café con piernas"
As in almost every big old city, city center's have some of the most interesting anecdotes and stories to be told. We do recommend making a walking tour so you get to know in depth the Chilean history.
8.- CERRO SAN CRISTOBAL (PARQUEMET)
Enjoying of an amazing view in to Santiago and the Andes in San Cristobal hill.
If Rome is the city of the 7 hills, Santiago is the city of the endless mountains!
Another panoramic of Santiago with the financial district and the Andes Mountains at the back
From all the mountains and hills that either surround or are inside of Santiago, San Cristobal is the main one. Not only offers a great view to the city but also a really nice walk where you can enjoy of different city views, enjoy of little parks inside of this park and reach the Virgin Statue on the top of it.
Because… It doesn't matter where you look at, you'll be seeing a mountain.
If you don't feel like walking you have 2 choices:
If you go by Pio Nono entrance you can take the old cable railway that costs $2.500 CLP (roughly, USD $3) that was built 1923.
If you go by Pedro de Valdivia entrance take by the cable car that has a longer distance. After a year of remodelling, it was reopened in 2016 with brand new cabins allowing you to enjoy a nice ride. Roundtrip costs $3.250 CLP (roughly $4 USD)
If you go by Pedro de Valdivia entrance take by the cable car that has a longer distance. After a year of remodelling, it was reopened in 2016 with brand new cabins allowing you to enjoy a nice ride. Roundtrip costs $3.250 CLP (roughly $4 USD)
Enjoying a nice sunset looking at Santiago's insane landscapes is something you should try to point in your agenda because you'll enjoy every bit of it.
Have you seen Exploring Together Santiago?
In this video we are Exploring Together my home city, Santiago!
7.- BELLAVISTA AND LA CHASCONA
Back in the time Bellavista was called "la chimba" which was an aborigine word referring to "beyond the river". La chimba used to be were the marginalized lived, at the other side of the Mapocho river far from city downtown.
Nowadays it is a cultural hub of Santiago, a must go during your time in this city. Located at the bottom of San Cristobal hill, this bohemian neighborhood is a great place to explore around.
Fulfilled of nice bars, night clubs, street art and streets shows, Bellavista is the place to go if you want to have a good night fun. Besides, it is great to go if you are travelling alone as you'll meet tons of Chileans and foreigners.
Bellavista proudly claims to have one of the 3 houses of Pablo Neruda: La Chascona. No pictures can be taken inside, but going in is a strange experience of getting to know the mind of one of Latin America's most influential poets.
La Chascona is one of Pablo Neruda's 3 houses.
The other 2 being:
Graffitis are a common urban art in Santiago but in Bellavista is where you'll see the best of it.
According to the Huffington Post Santiago is in the 11th position of best cities to see urban art
6.- SANTIAGO'S BAHAI TEMPLE
Sunset at Bahai's Temple in Santiago Chile
Visiting the first Bahai Temple of South America is in this list as you'll not only enjoy of this unique religious place but also of some of the best views to Santiago.
It is located in the precordillera -the foothills of the Andes- this place of adoration to God was created for anyone, independently of what religion you belong to- can go and pray in mutual respect.
The temple has 9 sides as it is a sacred number in Bahai religion and to cover the structure more than 400 tons of marble were brought all the way from Portugal to build it. In total, 1.580 flat marble pieces and 780 curved ones were needed to finish it.
5.- SKY COSTANERA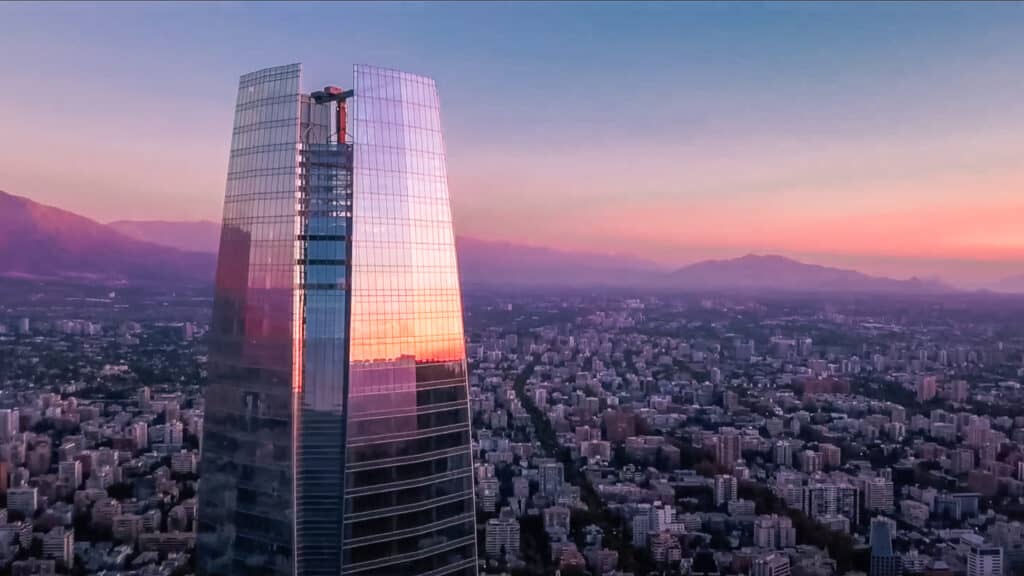 Drone shot of Costanera Center at 300 meter altitude
This 300 meters tall building isn't only to look from the outside. While it offers a distinctive mark on Santiago's skyline it is also a building that you can go on top of it.
Ticket Costs: $15.000 ($18 USD)
The tallest building of South America offer amazing views to Santiago and its surroundings. With amazing sights of The Andes mountains, visiting it specially after a rainy day will give you a postal that you won't forget.
If needing to, down below the big tower is a shopping mall with diverse stores and restaurants, making it a complete experience if you are up to do some shopping.
Be sure to check out Exploring Together Santiago Part II
4.- CAJÓN DEL MAIPO (MAIPO CANYON)
Burning sunset at Morado Glacier in Cajón del Maipo
Looking forward to experiencing the Andes? Then the Cajón del Maipo is the place you have to go to. This canyon located 30-40 minutes from Santiago's downtown is an amazing way to spend the day. The two main activities are visiting the Yeso Dam or the Morado Glacier.
The first one is a calm pic-nic style daytrip where you can grab a car of hire a tour and enjoy of amazing views in the Andes' heart. The second is a hike style where you'll begin walking from 2.700 to 3.500 m.a.s.l.
Both activities are just great to do but we do not recommend doing the Morado Glacier to someone who is not used to hikes as you can end up having altitude sickness.
Take a look at this video in el Cajón del Maipo!
Ejem… These were my early beginnings in youtube where I was mostly creating video to take pictures.
It might not be the greatest quality, but surely there is a laugh or two that we will have 🙂
3.- EL GOLF "FINANCIAL" DISTRICT
Drone Shot of Santiago's Financial District
While it isn't really a financial district -real one is located downtown Santiago- the neighborhood "el Golf" is a place to go for a walk. What used to be a fancy residential area nowadays is full of buildings where most of multinationals offices are located.
With beautiful buildings, little squares here and there, and interesting urban art like painted benches or sculptures, spending an evening walking around Isidora Goyenechea and having a Pizza in Tiramisú should be in your to do list.
A nice Lomito Italiano
Ah, forgot to mention! If you are there, then you should certainly visit "el Kika" restaurant and ask for an amazing "Lomito Italiano".
Probs to be the most amazing thing created in Chile, this beast is a massive sandwich made of pork, tomato, mayonnaise and avodaco.
And interesting fact is that chileans rank the restaurants according to the quality of their italianos. What makes them different between one and another is the quality of the mayo, the amount of food that it has and the place itself.
The 3 main sandwicherías (restaurants) are:
El Kika
Fuente Alemana
Fuente Mardoqueo
These 3 are the chilean equivalent to Manchester United, Liverpool and Arsenal. With Mardoque being the Arsenal as they generally are in the 2nd place.
But, I can totally guarantee you no matter which one you visit, you'll totally love it and you'll have to roll back to your Airbnb.
Some pictures of Santiago's financial district.
2.- LA VEGA MARKET
A woman's tomatoes store in La Vega Market
La Vega is Chile's main fruits and vegetables market. You won't only see diversities of fruits that you might have never seen before but also quantities that aren't common. You can literally see -depending on the season of the year- little mountains of fruits and vegetables!
But La Vega also is a great place to see the real Chileans. People screaming "the best natural Viagra" while alluding to a garlic or telling you "my sweetheart, come and try" just so you actually do it and end up buying some random fruit that you certainly did not had in your shopping list.
La Vega is like what you would think of an Aladdin market but in the South American way. Lots of trucks coming in and out, raw food waiting to be chosen, people shouting here and there and smells. Lots of smells and interesting food to see.
Woman buying tomatoes at the entrance of he market.
If you keep down the alley you'll get to the fish section. Great to place to get some ceviche for breakfast
Man selling anticuchos right outside the Vega in a cold winter morning.
Outside the market you can find an entire -no so legal- market. Though it is mostly focused in clothes rather food
1.- PARKS AND OPEN AIR ACTIVITIES
One of the most interesting things about Santiago is that it has a huge variety of parks in the city and outside of it. That's why we will divided into two section "Parks" and "Open Air Activities"
In the city itself you can get to parks like Forestal, Bicentenario, Fluvial and many others which are big parks located in different municipalities. Excellent places to have a nice "pichanga" (futbol match with friends) and enjoy of walks and city life.
Sunset crashing the Andes Mountains. Photo taken while descending the Manquehue hill
But you can also go a bit more adventurous and enjoy of "open air activities" in hills or the Andes Mountain. For example, a common hill to hike is the Manquehue (Manquehue is a Mapuche word that means "condors' nest"), which reaches an altitude of 1600 m.a.s.l and it is located inside of the city.
Climbing it takes around 1:40 hrs and from the top you'll have a view like no other to the city and to the Andes Mountains.
Besides, it is simply a great hike to do! Santiaguinos use this hill as some sort of back yard, it is very common for them to simply go climbing on a weekend morning.
But don't be over confident, the Manquehue does have quiet a slope so if be sure to take some hiking shoes with you!
Or you could also take a car and go to Farellones in the Andes mountains which should take somewhere around 1:20 hrs to get there. Here you have 3 ski centers that in summer you can go hiking or do mountainbike.
FINAL THOUGHTS
While most of the people visit Santiago just as a stop by to later move to other places in Chile, I'd totally recommend you spending some time there as you'll love it. The things that you should be exploring are:
Cerro Santa Lucía
Santiago's Downtown
Cerro Santa Lucía
Bellavista
Bahai Temple
Sky Costanera
Cajón del Maipo
El Golf Neighborhood
La Vega Market
Visit Parks and make open air activities such as climbing a hill