10 Best Places to Visit In The Netherlands
10 Best Places to Visit In The Netherlands
THE NETHERLANDS: BEAUTIFUL THINGS COME IN SMALL PACKAGES
The Netherlands is a surprising country, with an equivalent size to Maryland -42nd in USA's state by size area- this little country has nothing to envy to its bigger neighbors.
Not only it is in the 12th position of higher GDP per capita, it is also a fairy tail looking place. With small buildings, canals, great public transportation -though Dutch people usually complain about it- you'll totally love spending time in The Netherlands.
Sailors by nature, Dutch people have always had amazing trading and international commerce. Cities like Utrecht or Amsterdam have been of extreme importance for this country and international commerce
17th Century: Amsterdam was the leading financial city of the world and the most important city in Europe for the transshipment of goods
And nowadays The Netherlands surely is a leading country. Believe it or not, it is the main exporter of agricultural products in the EU and ranks 2nd in the world right after the US which is 237x bigger!!
So yeah…
Now you might be realizing how impressive this tiny country is.
If you are amazed by how wealthy this people is, then you might be expecting to see some luxurious cars and Hollywood style houses.
Well… Don't"
Pro Tip: Say "lekker" at all times, the most useful expression that could be translated as "everything is good"
Because Dutch people is well known for being thrifty which has given them the fame of being cheap.
Though I have heard that this mentality of thriftiness is simply a rational thinking of not spending in what is not needed and dividing costs according to whom consumed what. That's why it won't be a common thing for a dutch to pay for the table's restaurant bill, instead, they will pay what each consumed.
The best example of this "why do we have to pay for unnecessary things" mentality are credit cards. While most of the world gets ripped off by banks, Dutch have decided that fees are not acceptable. That's why in many places like the main supermarket Albert Heijn you won't be able to pay with credit card
Pro Tip: When traveling to The Netherlands, take both, credit and debit card.
Share This Pin ?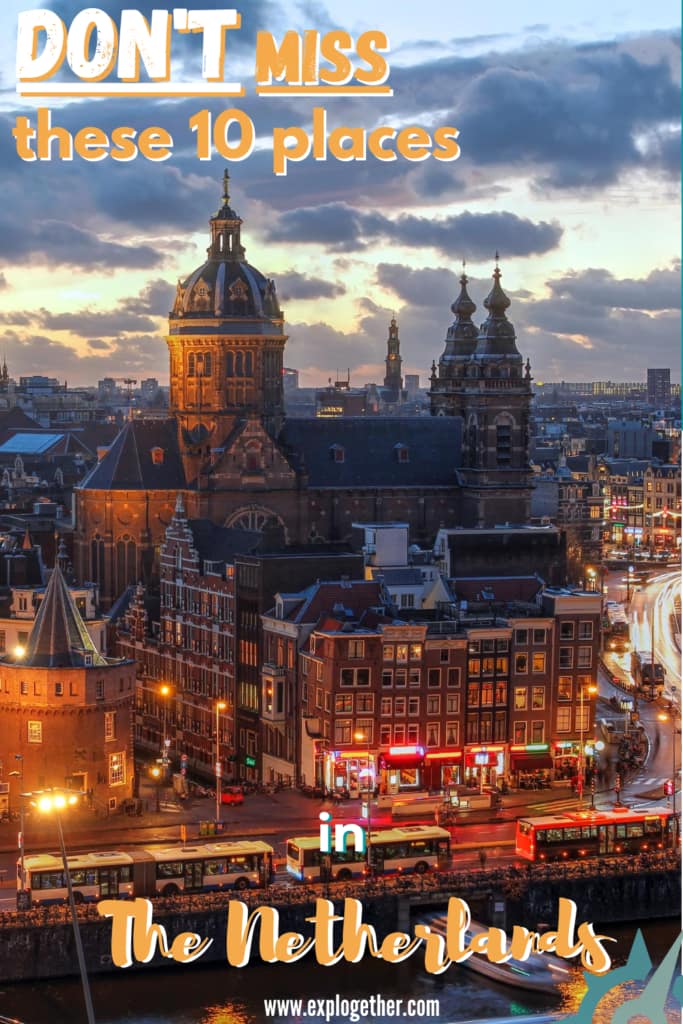 When confronted with the charge of fanatical frugality, the average Dutch person cites CALVINISM! as the root case.

The UnDutchables by Colin White & Laurie Boucke
My personal theory is that while it is truth that this country has had amazing times of wealth, they have also experience poverty and hunger due to invasions and wars. Events that have socially marked them and taught them to avoid waisting on unnecessary things and save up to have a good -for the rest of the world excellent- standard of living. But that's just my personal theory…
So with all of this information, you might now understand why The Netherlands is such an amazing country that you are missing out if you only visit Amsterdam! And here are 10 places for you to explore and live a Dutch adventure!
10 BEST PLACES TO VISIT IN THE NETHERLANDS
UTRECHT
Visiting Utrecht is visiting the history of The Netherlands. Founded by the Romans in the 1st Century it was firstly known as Trajectum or Ultra Trajectum as it was built in an intersection of the Rin river. With time, the name changed from Ultra Trajectum to Utrecht
Nowadays this gorgeous city has one of the most beautiful streets/canals of The Netherlands. Having a lower and an upper terrace, you'll find lots of stores and tiny coffees to sit down and enjoy the view.
Clearly, walking along this canal is a must as it will also take you the Dam tower, the tallest building of The Netherlands and the most important structure in the city
In the 7th century the archdiocese was installed and Utrecht became the most important city in The Netherlands as it was the cultural and trading hub of the country. What's interesting is that in 1254 the Cathedral of San Martin's was ordered to be built and so its 112m tower (also known as dom)
As I mentioned before, The Netherlands has been invaded many times. 1672 is known as the year of the disaster because they were invaded by Germany, UK and France, but for Utrecht the real disaster happened in 1674 when a tornado almost swept away the city in just 15 minutes.
As a result, part of San Martin's cathedral collapsed and now the Dom tower isn't connected to the main nave. Nowadays you can enter both of them, while the Dom costs 10€ -totally worth it- the cathedral entrance is upon donation.
Very close to the city of Utrecht is located De Haar Castle which is considered to be one of the best castles to visit in The Netherlands and one the most beautiful castles in the world.
The ticket includes the entrance to the park and the castle and costs 17€. Getting there is easy, be sure to see the instructions from the oficial cite here
Have you seen Exploring Together Utrecht?
THE HAGUE
If I made a mistake while being in The Netherlands, it was not spending more time in The Hague. While Amsterdam is the capital, The Hague has some of the most important administrative building not only of the country, but also of the world.
The Binnenhof:
(Picture above) Houses the States General of The Netherlands, the Ministry of General Affairs and the office of the Prime Minister
Surely, many important political things happens inside this building, but as an explorer we are more interested in the interior yard, where the Riderzaal is. The Riderzaal is the "Knight's Hall", as my dutch brother in law explained to me: "a lot of formal things happen in here"
This building from the 13th century is surely a must go when visiting The Hague. For me it was one of the biggest surprises in The Netherlands as I was not expecting it (being honest I didn't even know it existed lol)
The Peace Palace:
Houses the International Court of Justice (ICJ) which is the principal judicial body of the united nations.
Basically, if a country wants to sue a neighbor or has issues with another country, this is the place to complain. It's like the FIFA but for countries haha
The invention of photography allowed to understand the real consequences of wars, and as footage spread ideas of fighting for glory of king and country became more meaningless and peace movements arised by the hand of pacifists like Bertha von Suttner and Alfred Nobel.
You can visit the palace from Tuesday to Sundays from 10am – 5pm
While it is true that these are the most important buildings, you should also visit other incredible attractions like Scheveningen Museum or the Madurodam.
Have you seen Exploring Together The Hague??
---
LEIDEN
Leiden!!! It was the last stop in our Exploring Together The Netherlands Series! Gotta admit, absolutely loved it!
Leiden is well known for its University, the oldest one in The Netherlands and one of the most prestigious in Europe. But Leiden is also famous because one the greatest artists in history was born here: Rembrandt Harmenszoon van Rijn, or simply known as Rembrandt.
If you are an art enthusiast, you can visit the house where Rembrandt was born. But, be sure to make time to give a proper walk around this gorgeous city as you'll be astonish by the beauty of it.
You should also enjoy of either a short walking tour or reading on advance a bit of the history of Leiden as it is very interesting.
Curious fact:
Leiden is also known as "sleutelstad" or "key city", as in the 13th century were found some documents were Saint Peter was carrying a key (heaven's key). Since then, the key is the symbol of the city.
Well… the shield actually has 2 keys. The second one was later added. I haven't been able to find the reason why they included the 2nd key, but I my theory is that they did it to "balance" the symbol.
You can also enjoy of walking up the Burch to see the city and the Peterskerk from above. Both historical attractions that create an amazing cityscape.
Finally, you can spend some good time reading and astonishing yourself with the more than 110 poems painted in the walls of the city. Besides, you'll have some good fun trying to find them.
Have you seen Exploring Together Leiden?
TEXEL (WADDEN ISLANDS)
If you are one of those explorers looking forward to visit not so known places then this one -and the next one- is for you.
At the north of Amsterdam is located Texel, one of the islands of the Wadden archipelago.
Texel is the perfect place to have a nice family friendly day beach aventure. To get there you'll have to take a train to Den Helder (16.2€) and then take a Ferry (2€) to cross to Texel.
Pro tip: check the weather
While getting there is an exciting experience where you'll see The Netherland's landscape, in the island you'll be enjoying a calm walk along the beach and seeing a truly dutch side of The Netherlands.
DUTCH COUNTRYSIDE
Another not so common – but totally worth- destination. At the north of Amsterdam is a dutch countryside area which is a perfect day trip. The only inconvenient is that you'll need a car as by bus will take you much longer to explore. Think of it as making a dutch road trip.
Our recommended route is:
1.- Begin in Broek in Waterland
Begin in Broek in Waterland
Continue to Marken (Ferry)
Marken ➡️Volendam (Ferry)
Volendam ➡️Edam
Edan ➡️Horn
These tiny towns are the Dutch equivalent to the Cotswolds in England. Some of the classic dutch things you'll be seeing here goes from herring fish stores, huge amounts of cheeses, beautiful dutch houses and gorgeous boats.
DELFT
If cities would have a ranking of beauty per meter square, I wouldn't be surprised it Delft makes it to the Top 10. Walking in the streets of Delft is a surreal feeling of being in a Van Gogh's painting. The little shops one at the side of another, the canals, the buildings, the churches…
If you have the time to explore it properly, some of things you should definitely visit:
The Royal Delft Factory
The market (visit the vintage pharmacy Drogisterij Salamander)
The churches.
But, if you are lacking of time, you can still quickly sightsee it in 2 hours making it perfect to combine it with another destination during your day, like Rotterdam.
Let me share with you an embarrasing anectode.
When I begun my youtube channel I tried very hard on making my videos as perfect as possible. My english had to be perfect, my personality had to be entertaining and the information had to be on point.
When I visited Delft, I made the not so little mistake of confusing the Old Kerk (church) with the New Kerk.
Guess what…
My Youtube video appeared in the newspaper of delft!! ?
And they wrote ?:
"Delft is very hot among tourists (duh, we understand!). YouTube vlogger Ian from "Exploring Together!" Also visited Delft and made a beautiful video. Beautiful images of our city are interspersed with catchy phrases and nice information about our historical city. He does confuse the Old and New Church completely, but hey – for once we forgive him."
While nowadays I no longer try so hard to make a good video -I just try to be me ?- I am SO looking forward to go back and make another -but this time correct- video of Delft ?
Besides… I think my filmmaking skills have improved a lot since then… I am sure I'd be making a beautiful video for Delft citizens to enjoy.
MAASTRICHT
Maastricht is one of the oldest cities in The Netherlands and this is noticeable as soon as you step in the historical center. Having beautiful churches, medieval walls and markets, you should totally explore it.
One of the most recommended destinations is the main market which is located in the market square (called markt). Of course, shopping the curious things that they sell is always a fun activity to do but, do not forget paying attention to your surroundings because you'll see the huge mansions and the city walls!
Clearly, you can enjoy of many walks around the city, but you should not miss the Vrijthof square.
In Vrijthof square you'll find the St. Servatious Basilica -inside is the St. Servatious tomb- which used to be a place of peregrination back in the medieval times.
Pilgrimage allowed merchants to sell their goods, and that's basically why Maastricht has so many markets.
Nowadays, Vrijthof square has some of the best coffees stores in the city making it perfect to relax and enjoy.
ROTTERDAM
After being bombed in the II world war the city Rotterdam had to be reconstructed almost from scratch. That's why from an architectonical point of view you'll be seeing a complete different city compared to the rest of The Netherlands.
However, this city certainly is one of the most interesting ones of the countries as it probably has some of the most innovative buildings in the world. Some of the most known ones are the cubic houses, the Markthal or the famous bridge "the swan".
But what's more interesting is that Rotterdam has built strange buildings since before the WWII. Did you know that the first skycraper of Europe was built here? It is called Witte Haus (White House). It has 43m and it was built in 1898!
Have you seen Exploring Together Rotterdam?
---
KEUNKENHOF (BUT LIKE A DUTCH)
32 hectares, millions of flowers and some of the best gardens you'll ever see. That's Keukenhof, one of the most beautiful destinations in The Netherlands.
This gorgeous garden has gain lots of fame thanks to social media where it has become a trendy spot due to its beauty and this has been reflected in the increased amount of tourists that visits this place. In 2019 more than 1.5 million visitors from 100 countries.
But there is one thing to consider about this data…
As this attraction is literally made out of flowers, the garden will be open during the time they blossom, which is…
8 weeks (Mid March – Mid May)
Let's process it for a second…
Keukenhof:
Visits: 1.5M
Open Days: 56 (8 weeks)
Daily Visitors: 26.786
Sagrada Familia (Barcelona):
Visits: 4.5M
Open Days: 365
Daily visitors: 12.329
If the fact that Keukenhof receives more than twice daily visitors than Sagrada Familia in Barcelona does not blow your mind, then I think nothing in this blog will do.
This amazing fact is also one of the reasons why visiting Keukenhof can be a bit intimidating if you don't like agglomerations. But we have you covered ?
This point is called "Keukenhof -But Like a Dutch" because you won't truly be getting into Keukenhof, instead, once you get to Lisse you'll rent a bike and you will be doing the following route
While it is up to you if you either want to go inside Keukenhof or not, the suggested route will be an unforgetable bike ride across the tulips -and other flowers- fields. Besides, you won't be smashing yourself against other 26.785 daily visitors that will be in Keukenhof.
Please note that I am not telling you to not go inside Keukenhof, it is amazing! But if you want to explore something that will be really amazing, go grab the bike and pedal like a dutch.
AMSTERDAM
And now its time to sit in a coffee shop in Amsterdam, the capital city of The Netherlands and the 5th most visited city in europe!. But, be sure not to just stay in a coffee shop because Amsterdam is so much more than drugs and prostitution.
If it is your first time visiting this city, it is likely that you'll be amazed by how bizarre it is. Once you go down the Centraal Station you'll see the endless amounts of canals, bikes absolutely everywhere, smell pot and… Surprise! You'll eventually get to the glass doors that have a red light (or blue) on top of it: the red light district
But after you get to know the dutch society you'll understand that what you might consider bizarre, for them is simply their liberalist way of thinking.
What's interesting is that while a dutch person would almost consider offensive just the idea of closing down coffee shops and the red lights district, it is very unlikely that they will visit one these places. They are mostly tourists destinations!
Of course, you should make the time to visit and enjoy them. After all, they are very interesting things to explore! Just don't be an annoying tourist throwing out at 12pm!
However, Amsterdam has so much more to offer than the Red Light District and the Coffee Shops. The entire city is a museum, really looks like Rivendell from The Lord of The Rings. What's best, it is relatively small so you can walk through it in a day or two.
Walking around its canals and narrow streets is a mental process on wonder:
Why houses are not straight?
Why do they have hangers on top of the house?
Why houses are so narrow?
How did they create such a beautiful place?!
Not sure if in the occidental world exists any other place as unique as Amsterdam
The city also offer a huge variety of museums and parks for you to explore. Some of the most knowns are the Rijksmuseum (19€) and the Van Gogh (19€), but if you would like to visit a very interesting one, be sure to check out the National Maritime Museum (16€)
Certainly, Amsterdam is a place that you'll totally love. Being one of the most liberal cities in the world, it offers a wide variety of activities to do. Either you want to go partying or simply enjoy of the finest of european culture, in Amsterdam you can do both.
Have you seen Exploring Together Amsterdam?
CONCLUSION
While most of visitors would think that The Netherlands its mostly Amsterdam, this tiny and amazing country has so many incredible places to explore! The 10 Things we recommend visiting in The Netherlands are:
Utrecht
The Hague
Leiden
Texel
Dutch Countryside
Delft
Maastricht
Rotterdam
Keukenhof (But like a dutch ?)
Amsterdam
Surely, this little country has many more places to be discovered and hidden secrets to be found. But those… are adventures that we still need to have.
That is it for me today explorers, do not forget watching the Exploring Together The Netherlands series and share this blog and, I, Chief Explorer Ian Lewis, will be seeing you soon.
Chao chao,
You lekker lekker Explorer!